Aviation
Music
Film/Media
Movies/TV
Travel
Tech
SpaceStation Expedition mission blogs.nasa.gov
Live events NASA_tv
NASA SkyWatch when Station is visible to the eye
Space Shuttle Atlantis lands KSC July 21,2011
Tour of glass cockpit.
Friends have Tommy memories.
Send a suggestion. helotech@heloman.com Kip
RefDesk Latest News from Bing new window
helicopter airline klyde humor

Press Release RobinsonHeli BellFlight LeonardoCompany Sikorsky AirBus AirBusUS CHC Boeing LockheedMartin JPLnasa


Jan 20 Wed -- 2021

- US Army helicopters conduct unique training with Greek military. Executed Eddie's Odyssey joint training mission on Velopoula Island and over the Aegean Sea. AH-64E Apaches, UH-60M, HH-60M Black Hawk helicopters army.mil
- GA-ASI demonstrated an 'A' size sonobuoy­­ carriage, release, process and control from MQ-9A Block 5 on US Navy Pacific test range, photo ga.com
- FAA seeking applications for two Aviation Workforce Development Grant programs aimed at developing and inspiring an inclusive pool of pilots and aviation maintenance technicians faa.gov
- FAA approved Space Florida application for commercial space Reentry Site Operator License at Shuttle Landing Facility (SLF) in Titusville, Fla. faa.gov
- Atos and IBM the expansion of strategic global alliance to help companies accelerate their digital transformation and optimize business processes. Alliance includes an intended focus on the development of joint offerings built on Atos vertical decarbonized solution and service delivery assets, powered by IBM ibm.com

- NASA and SpaceX latest blog blogs.nasa.gov
- SpaceX launch missions spacex.com

- Mars 2020 mission mars.nasa.gov
- Mars 2020 Perseverance rover mission. Landing Feb. 18, 2021, at 12.43pm PST jpl.nasa.gov
- Interagency Aviation Training (IAT) Course Schedule iat.gov
Jan 19 Tue -- 2021

- Australian Army armed reconnaissance capability strengthened following selection of Boeing Apache Guardian to replace Armed Reconnaissance Helicopter (ARH) defence.gov.au
- Hollywood man pleaded guilty to federal criminal charge that he recklessly operated drone that crashed into and damaged fuselage of LA Police Dept helicopter justice.gov
- Heli-Expo 2021 cancellations, Robinson, Bell, Airbus, Sikorsky, others, pullout. About 300 exhibitors remained. HeliExpo 2021 will protect health and safety by mandatory mask wearing, physical distancing, temperature screenings, cleaning of all public spaces rotor.org
- Space Launch System (SLS) rocket Green Run team reviewed extensive data and completed preliminary inspections that show hardware is in excellent condition after Green Run test that ignited all engines blogs.nasa.gov

- Rotorcraft Design Approvals - Helicopter Occupant Safety Toolkit faa.gov
- News Nellis AFB, Nevada nellis.af.mil
- FAA monthly Business Jet Reports faa.gov
- US National Archives and Records Administration - Nationwide Events archives.gov
- NASA Commercial Crew Program - NASA and Boeing targeting March 29 for launch of Starliner second uncrewed flight test to International Space Station blogs.nasa.gov

CH-53K performs Degraded Visual Environment flight testing in Yuma, Az navair.navy.mil navair.navy.mil CH-53K
Jan 18 Mon -- 2021 MLK Day

- Ten CubeSats deploy from LauncherOne Rocket into low-Earth Orbit as part of Educational Launch of Nanosatellites (ELaNa) 20 mission. Cosmic Girl 747 took off from Mojave Air and Space Port in California carrying LauncherOne Rocket and the 10 small research satellites blogs.nasa.gov wired.com
Educational Launch of Nanosatellites (ELaNa) initiative created by NASA to attract and retain students in science, technology, engineering and mathematics disciplines nasa.gov
- Drone review by wired.com tomsguide.com

- JPL Technology Demo teaching us how do you fly a helicopter on Mars, Mar. 11 2021 7pm PDT jpl.nasa.gov
- SpaceX launch updates - spacex.com

- Nellis Air Force Base, Nev., Flying Operations nellis.af.mil
- USAF Week in Photos af.mil
- USAF F35A Demo Team for 2021 Airshow Season, All USAF Aerial Events acc.af.mil

- FAA Practical Test Standards faa.gov

- FAA Safety Alerts
19006, Crash Resistant Fuel System (CRFS) Safety Standards
18013, Updated Rotorcraft External Load Attaching Means and Quick Release Devices for Human External Cargo (HEC).
18010, Procedures for Avoiding Obstacles Lighted with Light-Emitting Diode (LED) Obstruction Lights While Utilizing Night Vision Goggles (NVG) faa.gov

- NTSB Safety Alerts
Flight Helmet Cords Can Impede Egress, Understand cord connections (SA-068)
Loss of Tail Rotor Effectiveness in Helicopters, Be alert for uncommanded yaw (SA-062).
Helicopter Landing Sites Free from Debris, Foreign object debris can foul rotor systems and cause damage (SA-057).
Flying on Empty, Prevent the Preventable with Careful Fuel Management (SA-067) ntsb.gov

- Space Weather for Aviation Service Provider swpc.noaa.gov
Jan 16 Sat -- 2021

- NASA hosting media briefing on Wednesday, Jan. 27, at 1:30pm. PST to discuss upcoming landing of Mars 2020 Perseverance rover. Event will air live on NASA TV and YouTube jpl.nasa.gov
- FAA making it easier to research aviation safety guidance material from the Office of Aviation Safety (AVS) faa.gov faa.govAVS
- Boeing sustainment contract with NASA calls for them to deliver six additional solar arrays for ISS, installation beginning in 2021 nasa.gov
- Lockheed Martin completed assembly and testing of Orion Artemis I spacecraft and transferred possession to NASA Exploration Ground Systems (EGS) team LockheedMartin.com

- NASA and Boeing targeting March 29 for launch of Starliner second uncrewed flight test to International Space Station blogs.nasa.gov cms.nasa.gov

- US Army University Press Jan-Feb 2021, China Maritime Militia and Fishing Fleets armyupress.army.mil
Military Review armyupress.army.mil
- Robinson Helicopter Newsletters, Torrance, Calif robinsonheli.com

- USAF Schedule F-22 Demonstration Team acc.af.mil
Jan 15 Fri -- 2021

- Hollywood (LA Calif) person pleaded guilty to federal criminal charge for reckless operation of a drone that crashed into and damaged the fuselage of Los Angeles Police Dept helicopter. Despite evasive efforts, drone stuck helicopter, forcing pilot to initiate emergency landing justice.gov
- Airbus EC130 B4 helicopter crash in Grand Canyon which killed five Britons probably caused by gust of wind, then spin sfgate.com bbc.com azcentral.com
- HAI HeliExpo New Orleans, LA trade show and exposition dedicated to vertical aviation, March 22-25, 2021 rotor.org
- Atlas Air Worldwide agreement with Boeing to purchase four 747-8 Freighters, order will complete production of 747-8 in 2022 boeing.mediaroom.com

- MH-65E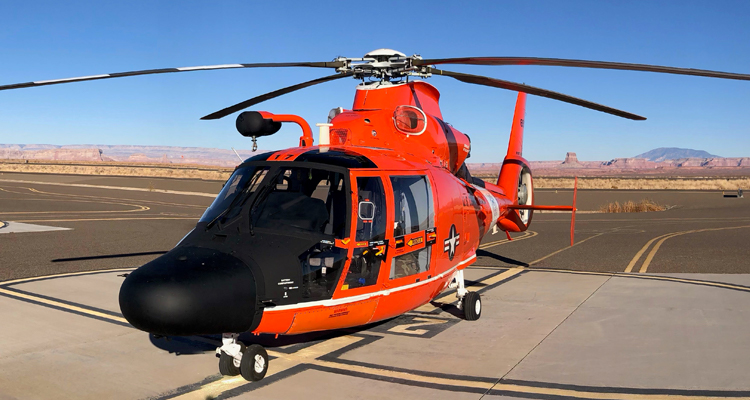 MH-65 program uscg.mil
- US Army Flier, Fort Rucker, December 2020 army.mil
- Commercial crew mission blogs.nasa.gov
- FAA Safety Briefing - Avoiding Controlled Flight Into Terrain Nov-Dec 2020 faa.gov
- Nellis Air Force Base, Nev, Flying Operation nellis.af.mil
- Eielson AFB, Alaska, Red Flag eielson.af.mil
- NASA Rotorcraft Publications 2020, 2019, 2018 rotorcraft.arc.nasa.gov
- US Helicopter Safety Team monthly update faaSafety.gov
more helicopter Reports ushst.org
- US Navy Blue Angels Show Schedules 2021 blueangels.navy.mil
- US Navy Week Schedule navy.mil
- Darpa Opportunities darpa.mil
Jan 14 Thu 2021

- US Army Future Vertical Lift (FVL) a DoD initiative since 2009 to develop strategic vertical lift capabilities. FVL Family of Systems (FoS) comprised of five capability sets spanning light, medium, and heavy categories army.mil
- USAF 60th Security Forces Squadron in collaboration with Easy Aerial launched first automated drone-based perimeter security system for Travis AFB, Calif travis.af.mil edwards.af.mil
- On April 15, 2020 brief burst of high-energy light swept through solar system, triggering instruments on many NASA spacecraft. Scientists think blast came from SuperMagnetized Stellar Remnant located in a neighboring galaxy nasa.gov
- USAF downselected Northrop Grumman to complete final project efforts to provide electronic warfare suite for US F-16 fighter fleet. This capability will protect pilots from growing danger of radio frequency-guided weapons by detecting, identifying and defeating advanced threat systems NorthropGrumman.com
- FAA order directing stricter legal enforcement policy against unruly airline passengers in the wake of recent, troubling incidents faa.gov
- AirBus A320 struck a coyote during departure, Houston, TX asias.faa.gov
- Hughes 269C substantial damage after engine failure during training maneuver and landed in field, Spanish Fork, UT asias.faa.gov
- Starting in mid-January, Washington Department of Fish and Wildlife (WDFW) will conduct mule deer captures from helicopters in three study areas along the east slope of the Cascades wdfw.wa.gov

- Airline passengers can obtain updated information on how to Fly Healthy flyhealthy.gov

- Nasa CallBACK monthly safety newsletter, Dec 2020 VFR Flight Into IMC nasa.gov
- US Army Aviation Digest - Unmanned Aircraft Systems in Large-Scale Combat - July-Sept 2020 army.mil
- Federal Register for Federal Aviation Administration (FAA) federalregister.gov
- USAF Air Combat Command F-16 Viper Demonstration Team Schedule acc.af.mil

KC-130T equipped with NP2000 Propeller System completed aerial refueling mission with MV-22 Osprey navair.navy.mil navair.navy.mil CH-53K
B-29 Doc tour schedule July-Aug 2021, St. Louis, MO (Spirit of St. Louis Airport), Terre Haute, IN, Cincinnati, OH (Lunken Air Field), Cleveland, OH (Burke Lakefront Airport), Kalamazoo, MI (Air Zoo Aerospace & Science Experience), EAA AirVenture (Oshkosh, WI with rides in Appleton, WI) b29doc.com
Going West on the Lincoln Highway map LincolnHighwayAssoc.org
2020 Aerospace Valley Air Show, October 9,10 a hybrid event, photos edwards.af.mil
Calendar Grand Canyon NP nps.gov
August 1, 1943 - "Hell's Wench" B-24 badly damaged by anti-aircraft artillery fire, led 93rd Bombardment Group (Heavy) in daring low level attack on oil refineries at Ploesti, Romania, photo 142fw.ang.af.mil
History of San Luis Obispo County Regional Airport, photos SanLuisObispo.com
Friends of the Inyo exploring new places, Calif FriendsOfTheInyo.org
Death Valley National Park - Scotty Castle nps.gov
Road Information nps.gov
California Fall Color, scenic drives and hikes LAtimes.com
SAFO - Helicopter Stabilized Hover Checks Before Departure faa.gov pdf
GE tested Advanced Turboprop Engine with 3D-Printed parts. Civilian turboprop engine to combine 855 separate components into just 12, photo ge.com
FAA Administrator Fact Book returned on-line faa.gov pdf faa.gov
Top 10 Martin Gardner Scientific American Articles, Mathematical Games column began January 1957 scientificamerican.com
B-17F Memphis Belle(tm) to be placed on public display on May 17, 2018 at National Museum USAF, photo nationalmuseum.af.mil
Fact Sheet nationalmuseum.af.mil
1944 movie Director Lt. Col. William Wyler afi.com American Film Institute
2017 Ladies Love Taildraggers 5 scholarships ladieslovetaildraggers.com
Robinson Helicopter Safety Alerts -- Low-G Mast Bumping Accidents Dec2016 robinsonheli.com
Three US Marine H-53 Sea Stallion heavyLift helicopters (over 20yrs old) brought out of retirement from DavisMonthan AFB Ariz. will be upgraded and put back into active service. photo Aug2005 navy.mil
Mars Spirit Opportunity rovers. jplNasa
US Navy helicopter San Diego Calif training 2007. Photo courtesy of Jim Pratt "flybum" opens new window. USN2007helicopter
Events
Monthy Van Nuys Propeller Aircraft Association, Historical Aircraft Display Day. vnyprop.org
Blue Angels Show Schedule navy.mil
EAA B-17 Tour b17.org
USAF Thunderbirds Show Schedule. thunderbirds
Collings Foundation B-17 B-24 collingsfoundation.org
Reno NV Air Races airrace.org
Strategic Air Command and Aerospace Museum, Ashland, NE SACmuseum.org
Always check before travel,
events sometimes get cancelled.
From 2020
Video images from NASA Juno mission nasa.gov
Boeing delivering new technologies and performance improvements to US Special Operations Command with Block II Chinook helicopter. Boeing Philadelphia team recently delivered first MH-47G Block II Chinook to SOCOM boeing.mediaroom.com
From 2019
Sikorsky Boeing SB1 DEFIANT(tm) helicopter first flight, photos LockheedMartin.com
DoD USAF plan to buy 80 F-15X and slow rollout of the F-35 bloomberg.com SeattleTimes.com
From 2018
SureFly eVTOL, hybrid-electric eVTOL multi-copter workhorse.com
Lockheed new digital curriculum for high-school students, parents and educators as part of Generation Beyond, free, online STEM education program used in US classrooms LockheedMartin.com
From 2017
Sikorsky R-4 helicopter display, photo army.mil
Engineering Development Model UH-60V Black Hawk helicopter, photo army.mil
Researchers at MIT designed one of the strongest lightweight materials known, by 3-D printing flakes of graphene, a two-dimensional form of carbon. The new material, a sponge-like configuration with a density of just 5 percent, can have a strength 10 times that of steel. mit.edu
From 2010
NASA Subsonic Rotary Wing Project nasa.gov
Tommy Stuff
ClickForMore
Tommy
Weather Summary
NOAA GOES
West Satellite
NWS
forecast
NOAA NWS
radar Reflectivity
Cal Trans
CAM